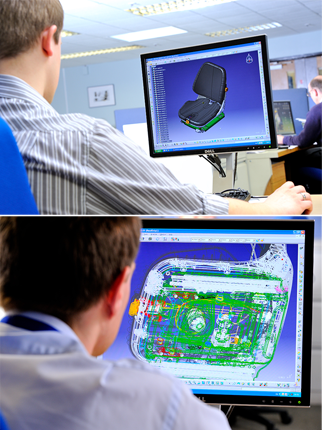 CVG Seating (India) Pvt Ltd conducts its research and development (R &D) activity at Pune.
The Team uses 3D CAD design tools as Catia V5 / Solid works to create and prove innovative seating solutions in a simulated condition before prototype samples are made and physical tests are conducted.
The Team works in close liaison with CVG Shanghai (China) and CVG Northampton (UK) especially for suspension seat development and its critical testing.
Full fledged test lab is planned in stages at Pune to support Suspension seat development.
Advanced Product Development
Reverse Engineering
Competitive Benchmarking and Tear-Down

Secure Online Database
Full product analysis

Digital photos and documentation
Dimensions and Weight
Cost (product and methods)
Material analysis
Bill of materials and parts count

Benefits

Compressed design and development time
Reduced design and development costs
Estimates and calculations of concept and design variations for cost benefit analysis
Improved product design

Optimized Costs
Durability
Functionality
Features